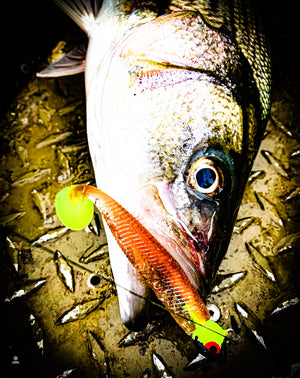 Proudly Made On
maryland's Eastern Shore
With Domestically Sourced Components
Welcome to Old Skool Tackle
Home of high quality soft plastics and other products focused on the inshore light tackle angler. Since our founding in 2018, we have been the premier saltwater bait company on the lower shore! Proudly made in the USA, on the Eastern Shore of Maryland, we are family owned and operated. We take pride in everything we make and source our components from the best in the industry, making or products desirable for serious tournament anglers and weekend adventurers alike! Make the switch and experience the Old Skool Advantage today you will not be disappointed, if you are not fishing Old Skool you're not fishing!
Science of Color Selection
Latest Blog
Ever wonder why fish bite on one color and not another one day and not the next? If it isn't chartreuse is it of use? We set out to answer some of those questions with science. Learn to catch more fish by understanding how water and light should influence your color selection on the water.
New Product
2x Strong Tog Jigs
2X Strong Hooks and Indestructible Paint make this the ultimate Tog Jig! But don't let the name fool you, they can handle so much more! Big fish need apply! Available in 1oz and 2oz.
Jetty Wreckers - Skirted
New for 2023! From 3/4oz to 3oz and 5/0 to 7/0 these are monsters!
Shop Now
Jetty Spins
New for 2023! Our Jetty Wrecker heads on a beefed up mini spin and a 5.5" powder coated willow blade.
Shop Now
Curly Frogs
New for 2023! Curly Frogs previously made by Reel All American Custom Baits.
Shop Now
OG Eels
The underground secret is out! OG Eels have transcended from a guarded secret for many anglers to a best selling bait!
Shop Now
Hammers
Since 2019, our Hammers have been the best selling bait in our lineup! Available in 3.75" and 4.75"
Shop Now
3.5" Fatty's
Our 3.5" Fatty's are becoming a popular trailer bait for chatters and buzzbaits for snakeheads! They also perform well in saltwater environments for redfish, specks, and stripers!
Shop Now
1oz/2oz Tandems
Unrigged tandems built on 2X strong 7/0 Mustad hooks and paired with our extremely durable 8" Grubs! Build your own tandem your way!
Shop Now
3.5" Rip Shiners
Great trailer baits for both fresh and saltwater environments. Slim profile matches shiner hatches perfectly!
Shop Now
Dragon Slayers
New for 2023! Hi Carbon Steel, extra sturdy wide gap hooks make this the perfect keel weighted hook for our Curlys. Don't sleep on additonal applications for both salt and fresh water environments.
Shop Now